Baked Courgette with Minced Pork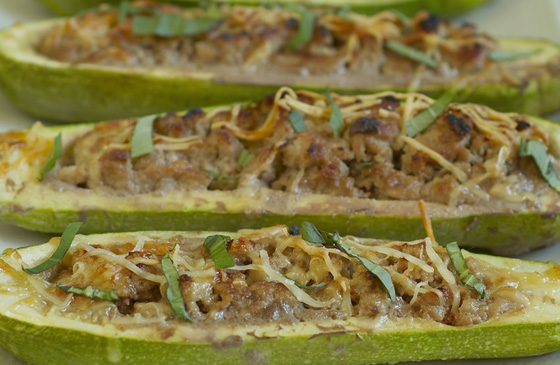 This satisfying and tasty meal is also healthy and easy to make. Try it with aubergine for a delicious variation.
Ingredients
350g lean minced pork
250g peeled and deveined prawns, minced
100g crab meat
100g grated carrot
6 finely chopped medium sized shallots
3 minced cloves of garlic
3 dried wood ear fungus
1 egg
3 tbsp fish sauce
1 tbsp ground white pepper
1 tsp sugar
½ tsp salt
½ a fresh red chilli
4 large courgettes
Thinly sliced spring onions to serve
Method
Soak the dried wood ear fungus in water for about 20 minutes or until soft. Cut out and discard the middle bit of the wood ear fungus if it is hard. Chop it into thin slices. Combine all the ingredients, and make sure everything is mixed well.
Cut the courgettes in half and scoop out the middles. Fill the insides with the pork mixture and put the halved courgettes on a baking tray and cover with foil. Cook them in a hot oven for 40 minutes. 10 minutes before serving, uncover the courgettes from the foil so they become brown and crispy.
Serve immediately with boiled rice, the spring onion sprinkled over the top and nuoc cham dipping sauce.