Banh Xeo"-"Vietnamese Crepes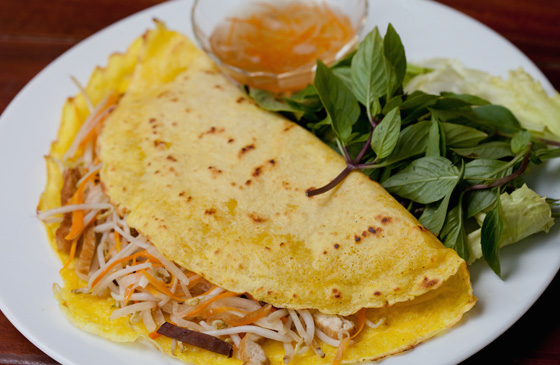 These delicate, savoury crepes are a popular street food in Vietnam. The crispy turmeric, rice flour and coconut milk pancakes filled with various things such as prawns, pork belly and beansprouts, are delicious served with bunches of mint, Vietnamese coriander and basil and of course nuoc cham. It's not traditional to use beer in the batter, but some say it creates a thinner and crispier crepe at the end.
Ingredients
Fillings
250g prawns – medium to large size, peeled and deveined and sliced in half lengthways
250g pork belly, cut into thin slices
1/2 tsp salt
1/2 tsp sugar
1/2 tsp fish sauce
black pepper
1 medium onion, thinly sliced
200g of bean sprouts
Batter
300g rice flour
2 tsp turmeric powder
500ml of water or beer
300ml of coconut milk
4 spring onions sliced thinly
1/2 teaspoon salt
Method
In a large bowl whisk together the rice flour, turmeric powder and salt.
Add the water or beer and coconut milk and whisk until mixture is smooth and all the lumps are removed. The mixture should be fairly runny, add more water or beer as needed.
Add the sliced spring onions and leave the batter to rest for 30 minutes.
Add salt, pepper, sugar, and fish sauce to the pork and set aside.
Add some salt and pepper to the prawns and set aside.
Heat up a frying pan on a high heat.
Add 1 tablespoon of oil and then add one portion of pork until it is partly cooked, then add some prawn and onions.
Add ¾ of a ladle full of batter into the mix and swirl the pan to coat it thinly and evenly.
Add bean sprouts over half the crepe and put a lid on the pan for a couple of minutes.
Drizzle another 1 tablespoon of oil around outer edge of crepe to create a crispy edge and lower the heat to medium and place the lid on again until it's golden brown.
Loosen the crepe from bottom of pan with a soft silicon spatula and when the bottom turns light brown and crispy, fold the crepe in half to encase the bean sprouts.
Serve with lettuce, mint, Vietnamese coriander and nuoc cham.
Place pieces of cooked banh xeo inside a lettuce leaf, dip in nuoc cham and eat immediately.