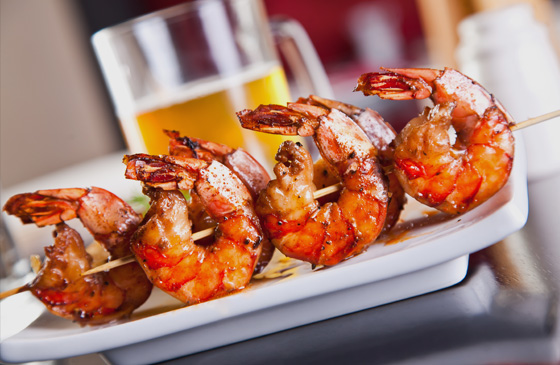 Perfect on the barbeque or under the grill, make a creamy aioli dip as a perfect accompaniment.
Ingredients
12 prawn skewers
Juice of 2 limes
Marinade
5 tbsp cider vinegar
2 tbsp colman's mustard powder
120g brown sugar
2 tbsp water
1 tbsp chilli powder
½ tsp pepper
Dash of Tabasco sauce
2 ½ tsp soy sauce
Knob of butter
Method
Place the prawn skewers into a non-metallic dish and drizzle over the lime juice. Stir well, so they are evenly coated, and leave for 5 minutes to allow the flavour to infuse.
In a saucepan mix together cider vinegar, Colman's mustard powder, brown sugar, water, chilli powder, pepper and a dash of Tabasco. Simmer gently for 25 minutes. Add soy sauce and a knob of butter and simmer for 5 minutes.
When the sauce is ready, pour it over the prawns.
Barbecue the skewers until the prawns turn pink (the exact time depends on the size of the prawns), turning once halfway through, until they are cooked through.