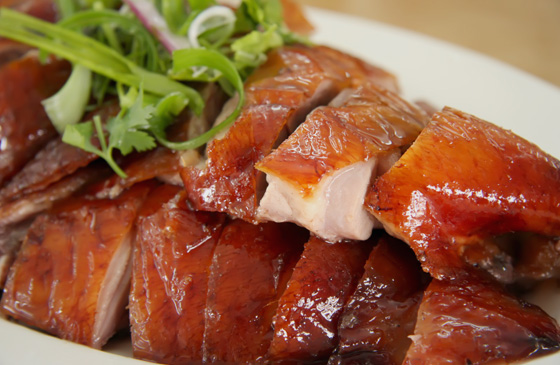 This dish is worth making just for the warming, comforting aroma of the braising spices. Serve the braising liquid drizzled over the tender duck and some boiled rice and you will not be disappointed. So as not to waste the braising liquid, use it again to braise a chicken or some pork belly and it will be full of flavour.
Ingredients
1, 2.6kg whole duck
500ml oil (preferably groundnut)
Sauce
1.5 ltr chicken stock or water
1.5 ltr dark soy sauce
500ml light soy sauce
400ml rice wine
150g sugar
5 whole pieces of star anice
5 cinnamon sticks or Chinese cinnamon bark
Coriander as a garnish
Method
Cut the duck into quarters and dry it thoroughly with kitchen paper.
Heat the oil in a wok or large frying pan until it is almost smoking and then shallow fry 2 pieces of the duck, skin side down. Turn the heat down and continue to fry slowly until the skin is browned for about 15-20 minutes. Don't turn the pieces over, but baste the duck with the oil as it fries.
Drain the cooked duck on kitchen paper and cook the rest of the duck in the same way.
Combine all the ingredients for the sauce in a large pot and bring the mixture to the boil. Add the duck pieces and turn the heat down to a simmer. Cover the pot and slowly braise the duck for an hour or until tender.
Skim off the surface fat which is left after the duck is cooked which will prevent the duck from becoming greasy. Remove the duck from the sauce, let them cool slightly and chop them into smaller pieces.
Arrange them on a platter and sprinkle the chopped coriander over the top.