Butterfly Prawns with Garlic Butter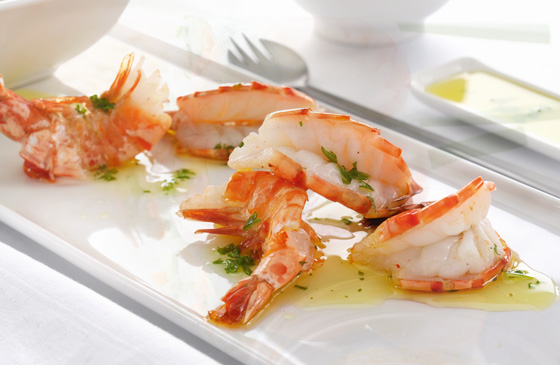 This simple but delicious recipe for garlic lovers would work well as a starter, or even as a tapas dish served with fresh crusty bread. These could also be pan fried as a variation, just melt the butter in a frying pan and add the salt and pepper. Add the prawns and fry over a high heat until cooked and serve with the lemon and parsley.
Ingredients
20 raw shell on butterfly prawns (about 700g)
6 cloves of garlic, minced
100g butter
1 heaped tablespoon of chopped fresh parsley
The zest and juice of one lemon
Salt and pepper
To serve
Lemon wedges
Parsley
Method
Rinse the prawns and pat them dry, then place them in a buttered gratin dish or baking tray. Make the garlic butter by combining the garlic, butter, parsley and lemon juice and zest in a bowl and spread it over the prawns.
The dish can now be kept in the fridge to chill until ready to cook.
Put the gratin dish or baking tray under the grill for 5-7 minutes until the prawns are completely cooked. Before serving, sprinkle the lemon juice and parsley over the prawns.