Caramel Braised Pork and Eggs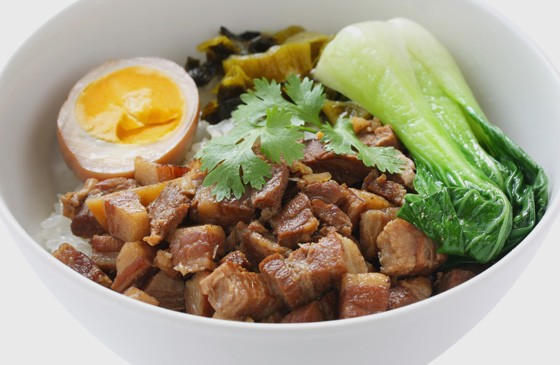 This is comfort food at its best! The caramel adds a rich colour and a salty sweetness to the pork, and the eggs are cooked in the sauce just long enough to become golden and richly flavoured. It's up to you which cut of meat you choose, whether it's the fatty belly pork or the lean pork shoulder it all ends up as delicious melt in the mouth tenderness. Served with steaming hot rice and pickled mustard greens, this is a dish you will be coming back to again and again.
Ingredients
750g pork collar, pork belly or pork shoulder cut into cubes
3 cloves of garlic, minced
2 tablespoons of fish sauce
6-8 boiled eggs, peeled
Caramel Sauce
3 tablespoons of sugar
2 tablespoons of water
Method
First, make the caramel sauce by mixing the sugar and the water together in a heavy based saucepan. Heat it slowly, but don't stir it. Swill the pan around if it needs mixing, but don't give in to temptation by stirring! Once the caramel has reached a golden colour, take it off the heat immediately. Add more water (very, very carefully) if you need to, to thin the caramel.
Heat the oil in a separate large pan and add the garlic and fry gently until the garlic browns slightly. Add the cubed pork and sear it on all sides. Once the pork is cooked add the fish sauce and slowly add the caramel. Add more or less depending on your taste; the more caramel, the sweeter the dish. Cook the pork in the caramel and the fish sauce for another 5 minutes before adding enough water to cover the meat.
Braise the meat for about 40 minutes to an hour, or until the meat is tender. About 15 minutes before the dish is ready, add the boiled eggs.
Serve with hot rice and plenty of cracked black pepper.