Caramelised Chicken"-"Ga Kho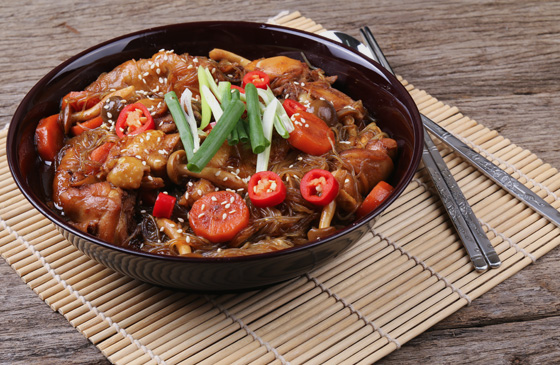 This is a tasty and incredibly easy meal to make which would be just as good for a midweek meal as it would be for entertaining friends. It's a similar dish to our braised fish ca kho to, with the delicious sweet yet savoury caramel sauce. Serve it with steaming boiled rice and make sure there's enough to have a second helping….
Ingredients
750g chicken thigh/leg (skinless, either bone in or deboned)
100ml fish sauce
100ml water
100ml rice vinegar
150g brown sugar
4 cloves of crushed garlic
1 tbsp fresh grated ginger
1 tbsp lemongrass
3 spring onions sliced
1 sliced red chilli (optional and to taste)
For the Marinade
2 tbsp fish sauce
1 tbsp brown sugar
Method
Marinade the chicken with the fish sauce and brown sugar for about 30 minutes before you start cooking. Make the sauce in a separate bowl by adding the brown sugar, water, vinegar, fish sauce, ginger, lemongrass and garlic together and setting aside.
Heat a large pan on high and add some cooking oil. Add the chicken with the flat surface of thigh facing down. Allow the meat to sear fully on one side, but don't move the pieces around too much to allow them to caramelise. After a few minutes, pour in about a quarter of the sauce and again, don't stir or move the chicken.
Once the sauce begins to thicken and the meat looks brown and caramelised on the one side, turn the meat over and add the rest of the sauce. Let it bubble and simmer until the sauce has reduced a bit more and the chicken is completely cooked through. As you turn off the heat, add the chilies and spring onions to the pan and stir through. Serve with steaming hot rice.