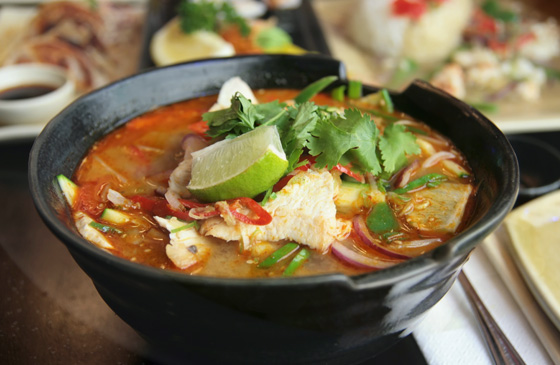 This dish is the perfect meal when you've over indulged at the weekend and you're craving something to bring you back into balance. Healthy vegetables and tasty stock are guaranteed to make you feel virtuous while eating this. Even if your moral compass doesn't need adjusting, eat it anyway. Who doesn't love a noodle soup?!
Ingredients
You can really use any mixture of vegetables that you feel like or whatever is available at the time you want to cook this, so this is just a suggestion.
400g cooked chicken
1 large carrot in very thin julienne slices or cut into thin circles
½ packet of mange tout
1/3 savoy cabbage cut very thinly
beansprouts
20 button mushrooms cut into quarters
5 spring onions cut into 1.5cm pieces
2 chicken stock cubes
2 tbsp light soy sauce
1 tbsp fish sauce
1 tbsp sesame oil
3 garlic cloves, minced
3cm piece of ginger, grated
Chilli to taste
½ packet of pho rice noodles – 5mm are the optimum size but any rice noodles will be fine
Lime and coriander to serve
Method
Add the 2 stock cubes to make a litre of stock. Bring to the boil. Add the soy sauce, fish sauce, sesame oil, garlic and ginger and taste. Adjust as necessary. Cook the noodles according to the packet instructions and set aside. Add all the vegetables and chicken and cook for another 5 mins or until the chicken is completely heated through. Add some noodles to a bowl first, then put some beansprouts on top. Then add the soup with the vegetables and chicken piled on top.
Add the chopped coriander at the end and a squeeze of lime to finish. If you want, you can add extra flavour by adding hoi sin and chilli to taste.