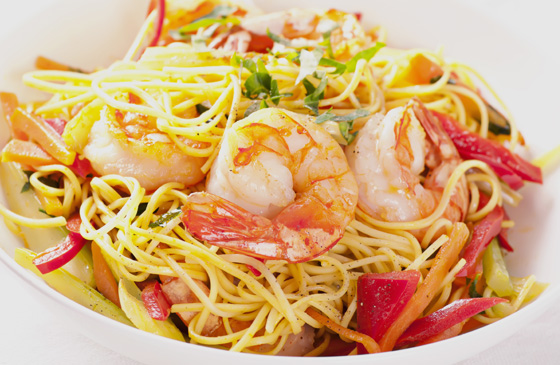 The next time you fancy a take away, why not try this quick and easy recipe instead?
Ingredients
300g raw peeled prawns
2 tbsp oil
1 red chilli – chopped
1 red pepper deseeded and sliced
3 cloves of garlic sliced
150g sugar snap peas sliced
2 tbsp sweet chilli sauce
3 tbsp soy sauce mixed with sugar
1 tsp sesame oil
300g thin egg noodles – cooked
Small bunch of coriander
Method
Heat 1 tbsp oil in a wok or frying pan and cook the prawns for 1 minute until they have turned pink. Then remove them and set aside. Tip in the chilli and pepper and garlic and cook for 2 minutes in the rest of the oil.
Add the spring onion and sugar snap peas and cook for 1 minute, then add the sweet chilli sauce, soy sauce with sugar, noodles and about 100ml water.
Simmer for 2 minutes until the sauce is syrupy, then stir in the prawns. Drizzle the sesame oil over the top and stir well.
Tear the coriander over the top of the dish to serve.