Chinese Chicken with Prawn and Mushrooms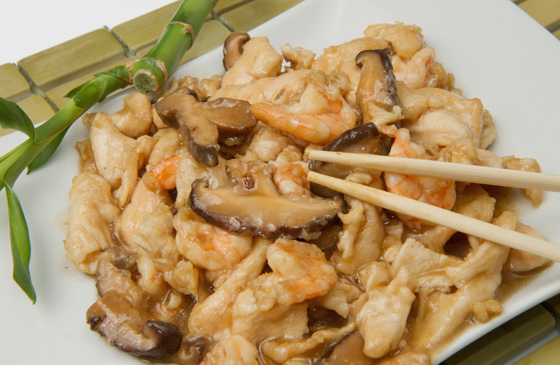 Chicken and mushroom is always a popular choice in Chinese restaurants and this is our version with bamboo shoots and prawns. If you can't find dried Chinese mushrooms, you could substitute for fresh ones, however the overall taste of the dish will be completely different and slightly less authentic.
Ingredients
150g raw peeled prawns
225g chicken breast fillet
175g bamboo shoot slices
6 – 8 dried Chinese mushrooms (soaked for 1-2 hours or overnight in cold water)
1 tsp salt
1 tsp egg white beaten
2 tsp cornflour paste
About 300ml of oil
1 spring onion cut into short sections
A few small pieces of fresh ginger thinly sliced
½ tsp sugar
2 tsp rice wine
1 tbsp soy or oyster sauce
A few drops of sesame oil
Method
Squeeze dry the mushrooms and discard any hard stalks before cutting them into halves (or quarters if particularly large). Cut the chicken breast into thin slices and mix the chicken and prawns together with a pinch of the salt, the egg white and the cornflour in that order.
Heat the oil in a preheated wok until medium hot. Stir fry the chicken slices and prawns until they are cooked. Remove them from the wok and drain. Pour off the excess oil, leaving about a tablespoon of oil in the wok.
Stir-fry the spring onion and ginger for a few seconds until fragrant then add the mushrooms and bamboo shoots. Stir fry for a couple of minutes, add the remaining salt and sugar and continue stirring for another minute.
Add the cooked chicken slices then add the wine and soy or oyster sauce. Blend well and stir fry for another minute.
Add the sesame oil right before serving and mix well.