Chinese Stir-fried Beef with Broccoli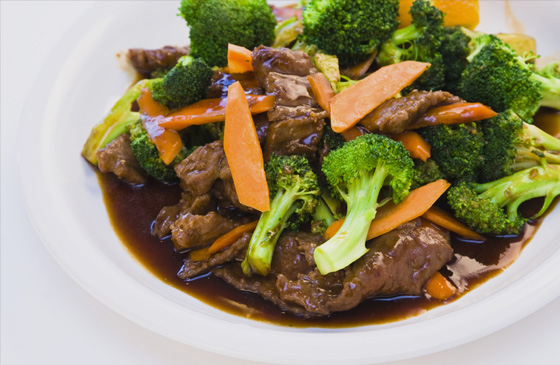 Faster than a take-away and totally guilt free, this stir fried beef and broccoli recipe will satisfy any junk food craving.
Ingredients
300g beef steak
200g baby corn
225g broccoli
1 carrot
300ml oil
1 spring onion cut into short sections
1.5cm ginger cut into thin slices
½ tsp salt
½ tsp sugar
1 tbsp oyster sauce
Marinade
½ tsp bicarbonate of soda
½ tsp sugar
1 tbsp light soy
2 tsp rice wine
2 tsp cornflour paste
2 tsp oil
Method
Cut the beef across the grain into thin slices about 2cm long and marinate the meat in the marinade mix for several hours. The longer the better – overnight if possible.
Cut the broccoli into small pieces and cut the carrot diagonally into thin slices. Heat the oil in a wok and stir fry the beef until it turns brown and is cooked. Remove the meat and drain off any oil or liquid.
Leave about 2 tbsps of oil in the wok and add the spring onion, ginger, and vegetables and stir fry for a couple of minutes. Add the salt and sugar followed by the beef and add the oyster sauce. Mix well and serve.