Grilled Tilapia with Mango Salsa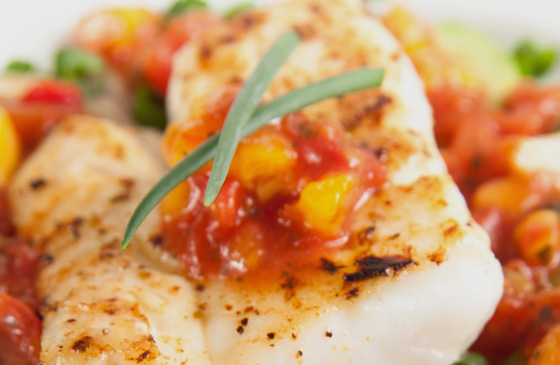 Try our great recipe for a summery fish dish. It tastes just as good cooked under the grill as it does on the barbeque, so you can still enjoy it all year round!
Ingredients
110g – 170g Tilapia fillet
16ml extra-virgin olive oil
30ml lemon juice
2g minced fresh parsley
2 cloves of garlic, minced
Dried basil
2 large ripe mangoes
1 red bell pepper, diced
1 large red onion, minced
6g chopped fresh cilantro
2 jalapeno peppers, seeded
(depending on how hot you want it)
60ml lime juice
Salt and freshly ground pepper
Method
For Marinade
Whisk together the extra-virgin olive oil, 1 tablespoon lemon juice, parsley, garlic, basil, 1 teaspoon pepper, and 1/2 teaspoon salt in a bowl and pour into a re-sealable plastic bag.
Add the tilapia fillets, coat with the marinade, squeeze out excess air, and seal the bag.
Marinate in the refrigerator for 1 hour.
For Salsa
Peel, pit and dice the mango.
Combine with the red bell pepper, red onion, cilantro, and jalapeno pepper in a bowl.
Add the lime juice and 1 tablespoon of lemon juice, and toss well.
Season to taste with salt and pepper and refrigerate until ready to serve.
Pre-heat frying/grill pan.
Remove the Tilapia from the marinade, and shake off excess. Discard the remaining marinade.
Grill the fillets skin side down for approximately 3 to 4 minutes per side, depending on the thickness of the fillets.
Serve the Tilapia topped with mango salsa.