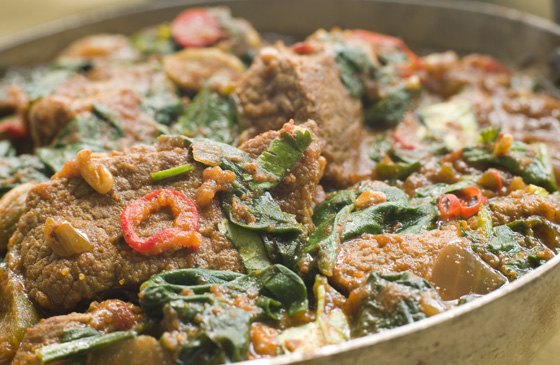 The slow cooking of the lamb makes it very tender and delicious and add more chilli if you like it hot! Why not try some of our curry samosas as a side dish to go with this lovely meal..
Ingredients
600g lamb neck fillet cut into pieces
200g spinach
Small chunk of ginger – grated
4 cloves of garlic crushed
2 onions roughly chopped
2 green chillies
Oil
1 tbsp ground cumin
1 tbsp ground coriander
1 tsp ground turmeric
1 tsp chilli powder
1 tsp garam masala
4 fresh tomatoes chopped, or a tin of chopped tomatoes
1 tbsp tomato puree
Method
Put the ginger, garlic, chilli and onions in a food processor and blend to a paste. Heat some oil in a pan and then add the paste mix with a pinch of salt and cook until the mixture becomes fragrant.
Add all the spices and cook for a few more minutes before adding the lamb. When the lamb is brown, add the tomatoes, tomato puree and a cup of water and bring to a simmer. Then cover and cook for an hour.
Add the spinach at the end and cook until it is completely wilted.