Mixed Seafood with Vegetables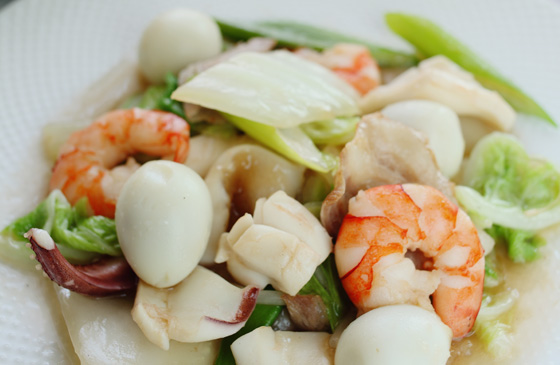 This is healthy, quick and easy! What more could you want?!.
Ingredients
225g cleaned squid
150g raw, peeled prawns
6 scallops
150g sliced bamboo shoots
150g sliced water chestnuts
½ An egg white
½ tsp salt
1 tbsp cornflour paste
300ml oil
½ tsp finely chopped fresh ginger
2 spring onions cut into short sections
2 tbsp black bean and garlic sauce
2 sticks of celery thinly sliced diagonally
1 carrot thinly sliced diagonally
½ tsp sugar
1 tbsp rice wine
½ tsp sesame oil
Method
Open up the squid and score the inside of the flesh in a criss-cross pattern, then cut the squid into diamond shaped pieces. Cut the prawns in half lengthways and cut each scallop into about 3 or 4 slices.
Mix the prawns and scallops with a pinch of salt, the egg white and about half the cornflour paste. Heat the oil in a preheated wok until it's medium hot. Add the seafood for about 30 seconds then remove and drain.
Pour out the excess oil, leaving around 2 tablespoons of oil in the wok. Stir fry the ginger and the spring onions with the black bean and garlic sauce over a low heat for about 30 seconds or until fragrant.
Turn the heat up high again and add the vegetables to be stir fried for about 2 minutes. Return the seafood to the wok with the remaining salt, sugar and wine. Blend well and add a little water stirring constantly.