Nuoc Cham-Vietnamese Dipping Sauce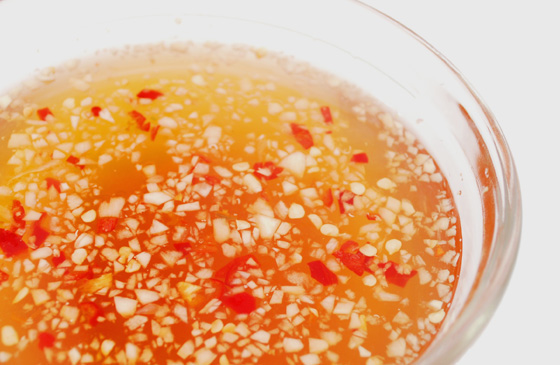 This is a basic recipe for nuoc cham, however adjust the recipe according to your taste.
Ingredients
60g caster sugar
150ml warm water
60ml fish sauce
30ml white vinegar
Juice of half a lime or lemon
4 cloves of garlic, minced finely
2 chilies chopped finely (optional and depending on taste)
Method
Put the minced garlic in a bowl or jar, and add the sugar. Add the lemon/lime juice and vinegar and then add the water.
Stir this until the sugar has dissolved. Add the fish sauce slowly tasting it at each stage. Normally you can see by the colour when it is ready – it should be a light honey or amber colour but go for a slightly stronger taste than you'd normally like.
Add extra of any of the ingredients to taste, adding the chili at the end. Shredded carrots can also be added at the end for extra flavour and texture.
If using the same day, keep at room temperature, otherwise store in the fridge in a water tight container!