Paella with Seafood & Chicken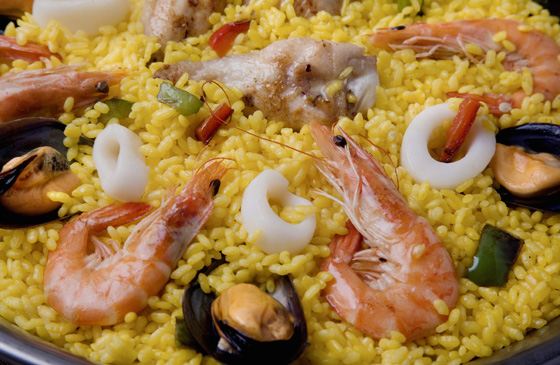 This is a great dinner party dish with vibrant colours and a great variety of ingredients. It's also great for using up leftovers of cooked meat and seafood. We like this dish served with a large pitcher of sangria to get the fiesta going!
Ingredients
1/2kg cooked and peeled prawns
12 ½ shell mussels
Squid tubes
500g chicken wings/thigh
6 cooked crevettes
3 cloves garlic minced
1 bay leaf
1 small onion diced
2 green peppers cut into strips
1 red pepper cut into strips
2 large tomatoes peeled, de seeded and chopped
500g rice
1 1/4 litres hot fish stock
saffron
1/2 teaspoon paprika
handful of cooked peas
Method
In a paella pan or large skillet, fry the chicken pieces to brown them. Remove and keep warm. Now add to the pan the minced onion, garlic and the peppers and let them cook for a few minutes.
Add the squid rings, tentacles and chopped tomatoes. Add a little more oil if required. Stir in the rice and allow to fry until the grains become a little opaque. Add the hot stock and stir.
Add the browned chicken, bay leaf, saffron and paprika. Stir to mix well, then turn down the heat to minimum and leave alone – do not stir again, but occasionally shake the pan to prevent the rice from sticking to the bottom.
When the rice is almost cooked, add the cooked mussels, prawns and peas, shake the pan again and cover. Turn off the heat and leave it to rest for 5 minutes. Serve with lemon wedges straight from the pan and decorate with cooked crevettes.