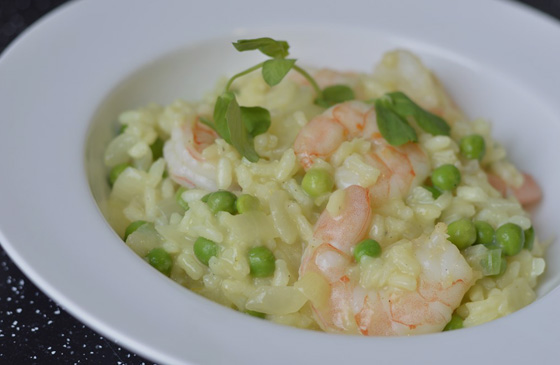 This is a delicious, light dish which is quick and simple. If you want a creamier, richer taste, add a spoonful of crème fraiche to the risotto at the end. A light grating of lemon zest also brings a freshness which is perfect for a summery evening.
Ingredients
500g raw, peeled and deveined prawns
2 cloves of garlic, minced
1 chilli finely chopped (optional and to taste)
Olive oil
250g risotto rice
1 onion, finely diced
1 ltr vegetable stock
125ml dry white wine
200g frozen peas
Method
Add some oil to a saucepan and add the chopped onions to the pan. Cook them gently on a medium heat until they become translucent but don't let them brown. Stir in the rice and cook for about another 2 minutes. Turn up the heat slightly and add the wine which should bubble and evaporate the alcohol.
Now add the vegetable stock in one ladleful at a time, but make sure the stock is hot before you add it. Stir the rice well after each ladle of stock and allow each addition to be absorbed by the rice before adding another. Make sure to continue stirring the rice throughout.
While doing this, heat up some oil in a separate frying pan and add the garlic. When the garlic starts to become golden, add the prawns and toss them in the oil so they cook evenly. Add the chilli and make sure the prawns are cooked through.
10 minutes before the rice is finished, add the frozen peas to the risotto and stir in well.
Stir the prawns into the rice and serve immediately. Finish with a light grating of lemon zest.