Shredded Beef with Onion and Ginger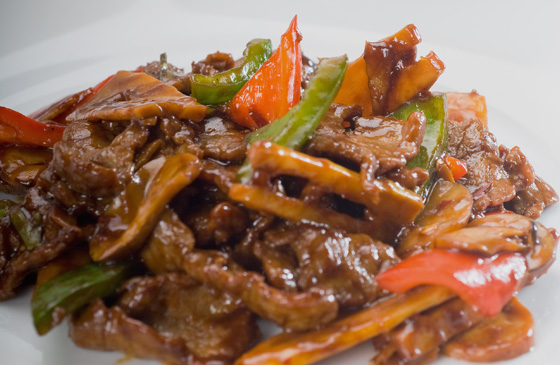 Don't go to the take-away! Make this and feel good about yourself.
Ingredients
300g beef steak
1 medium onion
25g fresh root ginger, peeled
1/2 green pepper, sliced
1/2 red pepper or carrot sliced
3 tbsp oil
1 tbsp chilli bean paste
1 tbsp light soy
1 tsp sugar
1 tbsp rice wine
1 tsp rice vinegar
½ tsp sesame oil
Method
Cut the beef into thin shreds and cut the onion and the ginger into thin slices. Heat the oil in a preheated wok or pan until smoking.
Stir fry the onion, peppers and ginger for about a minute and add the beef. Continue stirring for another minute until the beef turns brown and is cooked.
Add the chilli bean paste and mix well. Then add the soy, sugar, rice wine and vinegar. Cook for 30-40 seconds more and sprinkle the sesame oil to finish.
Mix it all together and serve immediately with rice.