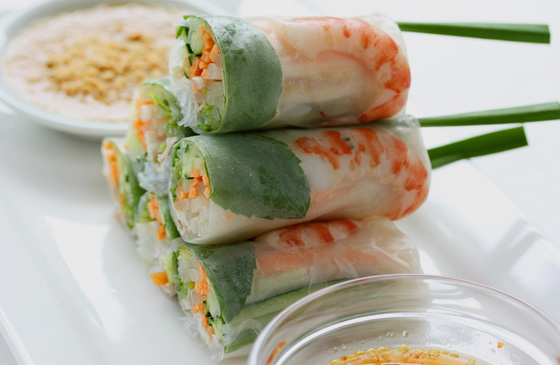 Despite what the name suggests, these tasty morsels are not just good for summer. Perfect for a light lunch or an appetising starter, you can really fill them with any combination of fillings you like. Prawn and pork are the traditional choices, but choose chicken, fish, vegetables, bacon or egg if they are what will satisfy your craving. With the dipping sauce, the same flexibility applies. Some prefer the nuoc cham sauce while others, the heavier, sweet and savoury hoi sin peanut dip.
Ingredients
Makes 8 rolls
150g cooked belly pork cut into small pieces
16 large cooked and peeled prawns
1 packet of rice vermicelli
1/2 a cucumber cut into thin strips
1 carrot cut into thin strips
4 spring onions cut into thin strips
2 little gem lettuce finely chopped
fresh mint
fresh coriander
Dipping Sauce
hoisin sauce
soy sauce
lemon or lime juice
finely chopped red chilli
crushed roasted peanuts
Method
Slice the prawns down the back lengthways so each prawn is split completely in half.
Cook the rice vermicelli according to the instructions and once cooked, rinse them through with cold water to stop them over cooking
Dip the rice wrappers in warm water and prepare the roll by placing 4 prawn halves in a horizontal line across the centre of the wrapper and then adding a small amount of the other ingredients on top. Roll the side of the rice wrapper nearest to you, halfway over the fillings, then fold both sides in before rolling the rest of the wrapper up to make a neat roll.
For the dipping sauce, add all the ingredients together and adjust it to taste.