Sweet and Sticky 5 Spice Ribs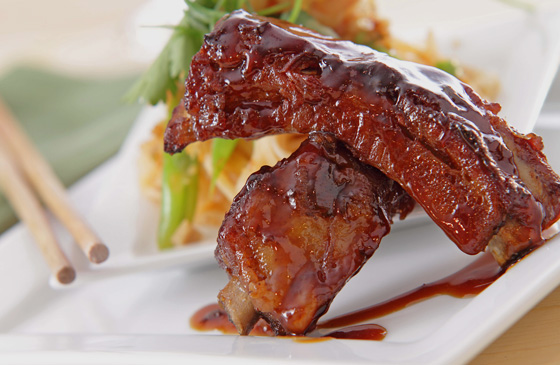 This is a great weekend recipe when you have a little extra time to spend cooking, and don't fancy leaving the house in the pouring rain! If you're dreaming of the hot summer ahead, the last part of the cooking process could just as easily be done on the barbeque, just boil the ingredients for the sauce separately and pour over once the ribs are cooked.
Ingredients
2 kilos of pork ribs
3 tbsp dark soy sauce
3 tbsp rice wine vinegar
3 garlic cloves crushed
Sauce
2 tbsp honey
2 tbsp dark brown sugar
2 tbsp light soy
1 tsp Chinese 5 spice powder
1 tbsp sesame oil
Method
Heat the oven to 150C. Put the ribs in a roasting tin and pour over the soy sauce, the rice vinegar and garlic and add 300ml water. Cover tightly with foil then cook for 2 hours.
Turn the oven up to 200C/fan 180C/gas 6. Uncover the ribs and drain off the liquid.
Mix together the ingredients for the sauce, making sure the sugar has dissolved well, and pour it over the ribs. Return the ribs to the oven and cook for around another 20 minutes until they are glazed and sticky.