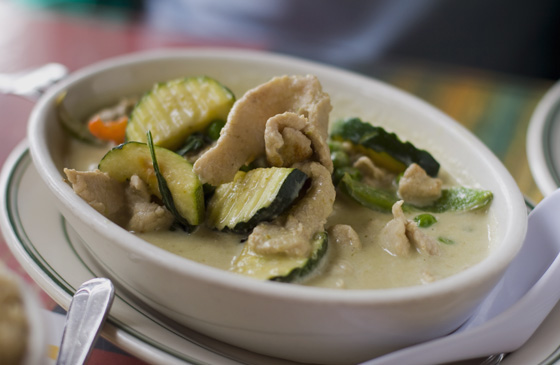 If you want a spicy, fragrant, easy meal just for you, or to impress your friends; this is it. Add whichever protein you fancy although prawns and chicken is our favourite!
Ingredients
500g peeled and deveined prawns
750g chicken breast or boneless chicken thigh, cut into chunks
1 tbsp vegetable oil
2 tbsp Thai green curry paste
6 shallots finely sliced
1 tbsp soft dark brown sugar
1 small courgette thinly sliced
Grated zest of one lime
400ml coconut milk
1 tbsp Thai fish sauce
1 tbsp light soy sauce
Lime juice
Small bunch of coriander, roughly chopped
Spring onions thinly sliced
Method
Heat the oil in a wok or large frying pan. Add the green curry paste, shallots and sugar and cook over a medium high heat until fragrant. Reduce the heat slightly and stir in the chicken, prawns, sliced courgette and lime zest until coated in the paste and the meat is slightly coloured. Add the coconut milk, soy sauce and fish sauce and simmer for 25-30 minutes until the sauce has reduced and thickened slightly. Stir in the lime juice and check for seasoning, adding more fish sauce or soy sauce if needed.
Add the coriander at the end and stir through and sprinkle the sliced spring onions over the top.
Serve with boiled fragrant rice and prawn crackers.