Tom Rang Muoi-Vietnamese Fried Prawns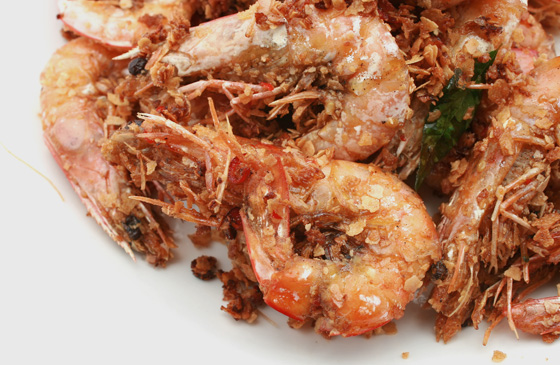 This is a great dish for a starter or an indulgent midweek meal. The crispy, fragrant, fried prawns are so delicious, you should always make far more than you anticipate eating!
Ingredients
10 – 12 large head on shell on prawns
1 tsp salt
1 tbsp cracked pepper
1 tsp Chinese five-spice powder
1 tsp sugar
60g rice flour
1 medium white onion, sliced
2 green chillies, sliced thinly
1 spring onion cut into about 1 cm lengths
1 tbsp finely diced garlic
Oil for deep-frying
Method
Remove the shrimp veins by slipping a toothpick in between the shells and pulling the veins out. Cut off the long antennae, rinse under cold water and drain.
Mix the salt, pepper, sugar and five spice powder in a bowl and set aside.
Heat the oil in a large pan or wok on a high heat. Cover the prawns with a light covering of rice flour and deep fry until they are crispy and golden. Remove and drain on kitchen paper.
Remove most of the oil from the wok, leaving about a couple of tablespoons in there. Add the garlic, chillies, onion, and spring onion into the wok and stir fry quickly. After a couple of minutes add the prawns back into the wok and add a couple of teaspoons of the seasoning mixture.
Serve immediately with rice, or as a snack with a dipping sauce made from lime juice and salt and pepper or nuoc cham.