Vietnamese Minced Pork and Aubergine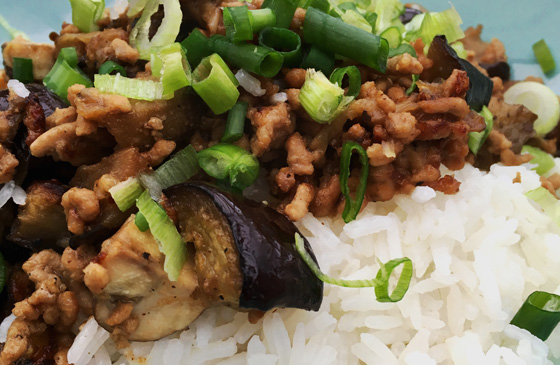 Pork and aubergine make a perfect pairing and this quick and delicious dinner is great even for the unadventurous cook. Grilling the aubergine first gives it a meltingly delicious texture, which along with the spicy, salty flavours create a dish which will almost certainly make it onto your weekly repertoire.
Ingredients
2 or 3 medium sized aubergines
500g minced pork
1 large onion finely chopped
3 cloves of garlic, minced
3 spring onions, chopped
4 tbsps fish sauce
cracked black pepper
1 red chilli finely chopped (optional and to taste)
1 tbsp of sugar
50ml white wine
fresh coriander
Method
Cut the aubergines in half lengthways and put them under the grill on its highest setting. In a large frying pan heat some oil and add the onions and the minced pork. Cook it on a medium to high heat until the meat is cooked through. Add the fish sauce, white wine, garlic, sugar, pepper and chilli and stir well to incorporate all the flavours.
Halfway through cooking, check the aubergines and turn them over under the grill.
Once the pork is beginning to caramelise, take the aubergines out from under the grill and chop them into chunks. They should be soft and tender by this point. Mix the chopped aubergine into the minced pork and add the spring onions.
Serve with hot boiled rice and chopped coriander.