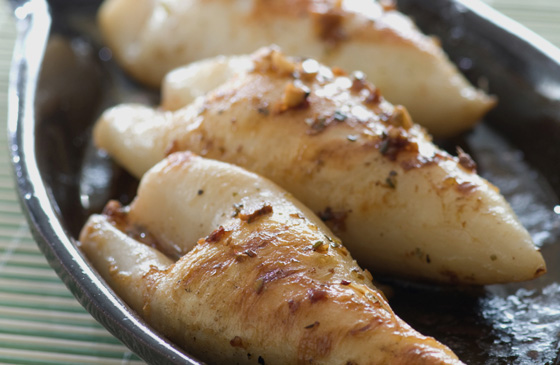 This is a great way to enjoy squid, and in the summer you could even cook them on the barbeque for an alfresco dinner.
Ingredients
6 cleaned squid tubes
Vegetable oil
Paprika
Salt
Cocktail sticks
Stuffing
250g minced pork
1 tsp fish sauce
1 tsp pepper
1 tsp sugar
1/2 tsp salt
1 minced shallot
2 cloves of garlic finely chopped
1 small red chilli finely chopped
75g rice vermicelli noodles, soaked in warm water for about 10 min, drained and cut into 1/2 inch lengths
25g wood ear mushrooms, soaked in warm water about 10 min, drained and cut thinly
Coriander and crispy fried onions for garnish
Method
In a mixing bowl, mix together the pork, fish sauce, sugar, pepper, salt, shallots, wood ear mushrooms, cut rice vermicelli noodles and mix well. If there are tentacles on the squid, chop them up and add them to the mix.
Stir fry this mixture over a moderate heat until it's cooked, then remove it from the heat and allow it to cool.
Carefully stuff the pork mixture into the squid tubes a little at a time being careful not to overstuff the squid as it might cause it to break.
Hold the open end of the squid together with a cocktail stick, lightly drizzle with oil and sprinkle a pinch of salt and paprika over the top.
Fry the stuffed squid in a frying pan on a high heat for 2/3 minutes until the squid are just opaque. Overcooking them will cause the squid to become rubbery.
Fry in batches and serve immediately by cutting them into slices and sprinkle with coriander and crispy fried onions.
A good dipping sauce for this dish is a mixture of hoi sin and chilli sauce.